COLUMNS &
FEATURES

Click On Link

All shows are archived to Listen at your convenience!
Link to the Live Broadcast of Gary Danko's Mondays at 5:50 P.M.
Show Starts at 6:00P.M.
Call in # is: (203) 757-1320Line Report

Tune in 6-7.30pm on WATR Radio, 1320 am or on WATR.com.
November 13, 2017
Join Gary and co-host Ricky Rotondo on the final show of 2017 with guests Brian Loftin, Monte Dutton and Reggie Ruggiero on this week's edition of the Speedway Line Report Radio Show Re-Broadcast available shortly after the airing of the live broadcast.
Speedway Line Report Radio is brought to you every Monday by Schaller Acura of Manchester, Ct.

We also stream live on garydanko.speedwaylinereport.com. ALL SHOWS are archived to listen at you're convenience.
<![if !vml]>
<![endif]>
Note: Some of the linked stories requires
Free Registration to the linked Newspaper or Web site.
SpeedwayLineReport.com has no control over the contents
of these articles! Links will remain for one week from publication.

Dave Dykes "Racing Through Time":
Presenting Yet-More Memories……
Starting this week's edition of "RTT" is a nice portrait image
of a true racing hero. This New England Auto Racing Hall of Fame member needs little introduction to those of us who recall the true "Glory Days" of New England short track racing. Captured here in the lens of Shany Lorenzent at Connecticut's "New London-Waterford" Speedbowl of the 1950s, Fred Luchesi's career started during the busy post-war era, and lasted until his retirement in the late-60s. During that time, he raced coupes, modifieds, midgets, and late models. In complementing his local exploits, he also ran against nationally known drivers like Fonty Flock, Red Byron, and Ted Tappett. In addition to multiple Speedbowl championships, he also took track crowns at Westboro, Lonsdale, and Norwood Arena. At the Speedbowl-alone, he scored a career total of 25 modified victories.
SpeedwayLineReport.com-Dave Dykes
Tom Ormsby's "Racing Remembrances": Driver Profile: Billy Harman On Sunday April 15, 1951 a 7th grader watched the first ever race at the New London /Waterford Speedbowl. That 7th grader was also attending his first race. Bob Swift would go in the record books as the first winner at the new racetrack. Young Billy Harman would become hooked on racing after that first race, never to miss a Wednesday or Saturday race for many years to come at the Speedbowl. Like many a youngster after attending their first race, Bill knew he wanted to be a race driver. In his sophomore year of high school Bill would build his first race car in the high school's shop class, a 1938 six cylinder Chevy Coupe. After school Bill would take the 38 Chevy to the Morgan Farm, about a mile from the Speedbowl. There were some weekdays Bill would drive the car from the farm to the Speedbowl and sneak on the racetrack. Bill recalls, "This was my first opportunity to drive the race car".**

Don Rounds Victor At New London Speedbowl

-1951**

Mordino, Hill Win At Plainville-1971

**

New Breed Strikes At Stafford Springs Again - 1972

SpeedwayLineReport.com-Tom Ormsby
Visit Our Friends

Monthly
Racing Commentary
with
LEW BOYD


SEPTEMBER 3
THE ROAD EAST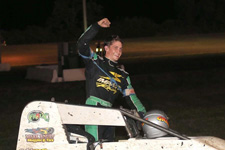 Dick Berggren's
Speedway Illustrated
Magazine


Subscribe Here!
MANY VINTAGE MODIFIED RACING VIDEOS
ONLY $19.95


2001 SPRING SIZZLER AND ICEBREAKER VIDEOS!
Public Service
Advertisements